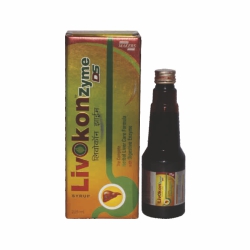 LIVOKON ZYME DS SYRUP
A Herbal Liver Care Formula with Digestive Enzyme.
225 ml
Improves the functional effectiveness of the liver
Detoxification and protection from the harmful food and medication toxins.
Ensures the protection from alcohol-induced hepatic damage in chronic alcoholism, and prevents fatty infiltration of the liver.
Help in prevention &treatment of constipation, skin diseases and digestion related issues.